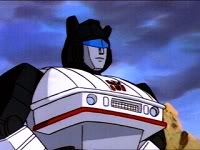 Character name: Jazz
Affiliation:
Autobot
RPG Stats:
Function

: Saboteur


Rank

: 4


Alignment

: Loyal Good


Vital Points

(Start) (Endurance x 10):

70
Alt mode: Ground vehicle speed: +3
Strength: +5
Intelligence: +9
Agility/Speed: +9
Endurance: +7
Courage: +8
Skill: +9
Total Skills Points: +60
Weapons:
Incendiary missile: 5 missiles available. +10
Battle Stats:
Total Armor Class (12 + class bonus + armor bonus): 12
Attack Power (Skill + Speed): 18
Maximum (Start) Evasive Manoeuvres: 5
Class Feats (Saboteur):
Knowledge of architecture and engineering: Knows the strong and weak points of buildings and structures, and the strength and weaknesses of diverse mechanisms.
Weapon proficiency: Explosives. May hit up to 5 enemies with one explosion.
Knowledge of explosives and unstable elements.
Description:
Jazz's easy-going, fun-loving nature is balanced by a more serious, daring side to his personality. Using his well-developed, highly attuned instincts, he has a way of accurately sizing up other bots and discovering their true motives and intentions, regardless of what they might be telling everyone else. Because of this uncanny ability, Jazz is able to get to the truth of a situation, no matter how unlikely it may seem. Once Jazz has made up his mind on something he will stubbornly stick to his guns… even when the entire Autobot army disagrees with him!
Back Story:
Jazz first encountered the Decepticons when Megatron and the Decepticons came to Iacon to assist the Autobots as the Nemesis drone army were advancing upon their command post, shortly after Sentinel Prime had been abducted by the drones. Jazz extended a helping hand and, ever since then, he has found himself questioning the war and continues to seek the true motives behind the endless conflicts that threaten to tear Cybertron apart.
Motto:
"Do it with style or don't bother doing it."